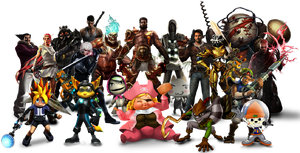 Alternate Costumes are different skins and costumes for playable characters in PlayStation All-Stars Battle Royale. Each character is able to unlock several different costumes in the game, and the currently known twenty are listed as pre-order incentives[1], being also avaliable as DLC. Characters will also have alternate color schemes for their costumes, as well as having alternate colors for their normal looks.
The third costumes for Isaac Clarke and Zeus (Elite Advanced Suit and Young Zeus) were never released as DLC, but are now available at no charge with the recent patch.
List of Costumes
Edit
Unlockable
Edit
Pre-order
Edit
Free Via Patch
Edit
References
Edit
Confirmed
Ad blocker interference detected!
Wikia is a free-to-use site that makes money from advertising. We have a modified experience for viewers using ad blockers

Wikia is not accessible if you've made further modifications. Remove the custom ad blocker rule(s) and the page will load as expected.