"Sly! Focus on as many targets as possible!"

—Bentley during

Sly

's Level 3 Super
Bentley[1] is a major character from the Sly Cooper series and is a minor non-playable character in Playstation All-Stars Battle Royale.
Biography
Edit
THE BRAINS OF THE COOPER GANG
Bentley is a box turtle, a trusted friend of Sly Cooper, and an expert in computer-hacking and other electronic devices. He's also quite well-read, often stating "I've read about this..." when deducing something new and alien to the team. He met Sly and Murray in an orphanage, and has been with them ever since. Within the events of Sly 2, he was paralyzed from the waist-down by the beak of a mechanical owl. When the gang broke up at the end of Sly 3, he built a new Cooper Vault and time machine with his girlfriend, Penelope. It was revealed in Thieves in Time when the Cooper Gang traveled to Medieval England that Penelope had disappeared intentionally to help Cyrille Le Paradox, a skunk intent on destroying the Cooper clan.
Connection with All-StarsEdit
Bentley makes an appearance during Sly's
third
Super Move
. He is seen communicating with Sly via binocucom and telling him to focus on as many opponents as he can.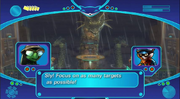 Bentley is also seen in Sly's Arcade Mode story.
References
Edit
Ad blocker interference detected!
Wikia is a free-to-use site that makes money from advertising. We have a modified experience for viewers using ad blockers

Wikia is not accessible if you've made further modifications. Remove the custom ad blocker rule(s) and the page will load as expected.