Blade Mode
Used by
Raiden
Super Level
"No Mercy!"

—Raiden
Blade Mode is Raiden's level 2 super move.
Raiden produces an energy field which freezes opponents in place, which he can get kills using his katana. Players can go for a quick kill with

or

. Pressing

produces the freezing field after Blade Mode is already active. Pressing the Right Analog Stick in any direction will swing Raiden's sword in the desired direction. Opponents caught with successive free strikes will lose some of their AP upon KO.
The Blade Mode can be used in Metal Gear Rising: Revengeance by Raiden. This is a bullet-time like mode where the player can control Raiden so he can perform cuts virtually on any straight direction. This mode is useful to immobilize opponents, to steal enemies' health and energy and to obtain certain objects like their ID. As this is is bullet-time like mode, its quite reasonable that the other All Stars caught in the energy field get freezed.
In Raiden's reveal trailer, the Super did not have the energy field.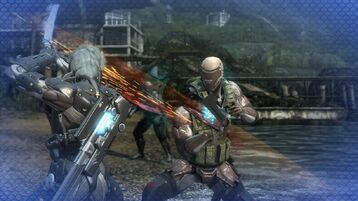 Ad blocker interference detected!
Wikia is a free-to-use site that makes money from advertising. We have a modified experience for viewers using ad blockers

Wikia is not accessible if you've made further modifications. Remove the custom ad blocker rule(s) and the page will load as expected.