Ciokina is one of the Crab Bosses in Patapon franchise.
Biography
Edit
Ciokina is a boss in Patapon, Patapon 2 and Patapon 3. She is the guardian of Megapon's Memory inside the Hot Bovo Volcano.
Connection with All-StarsEdit
Ciokina makes a short appearance in the stage Time Station before she is pulled back into the Time Station by Specter.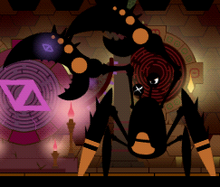 Ad blocker interference detected!
Wikia is a free-to-use site that makes money from advertising. We have a modified experience for viewers using ad blockers

Wikia is not accessible if you've made further modifications. Remove the custom ad blocker rule(s) and the page will load as expected.