Classic Throwback Suit


Vital statistics
Title
Classic Throwback Suit
Series of Origin
Ape Escape
Based on
A mixture of Spike's costumes from Ape Escape, Ape Escape: Pumped and Primed, and Ape Escape: Million Monkeys.
The Classic Throwback Spike is the unlockable costume for Spike in PlayStation All-Stars Battle Royale. It is the costume that he wears in Ape Escape: Pumped & Primed. It has his shirt from the first Ape Escape, the black pants from the first season of the anime, Saru Get You -On-Air- and the goggles are from Million Monkeys.
Alternate Colors
Edit
Red Shirt (Default)
Yellow Shirt
Blue Shirt
Green Shirt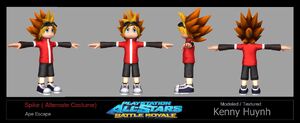 Ad blocker interference detected!
Wikia is a free-to-use site that makes money from advertising. We have a modified experience for viewers using ad blockers

Wikia is not accessible if you've made further modifications. Remove the custom ad blocker rule(s) and the page will load as expected.