"Alright, now it's Drake time!"

—Drake
El Dorado Sarcophagus (also named El Dorado Curse) is a "cursed" relic that appears in Uncharted: Drake's Fortune. Revealed to be a virus that originated from a mummy encased in the Statue of El Dorado, the so-called "curse" is a condition that killed thousands of treasure seekers and Spanish conquistadors, including Sir Francis Drake's crew.
Music:
Connection with All-StarsEdit
The El Dorado Sarcophagus appears as Nathan Drake's Level 3 Super in which the golden statue appears and opens, spreading the virus on the stage, turning every other fighter into Descendants from Uncharted: Drake's Fortune. Drake also gains access to Eddy Raja's golden gun which will take out zombified opponents. Unlike most supers, however, the Descendants can also gang up on Drake by attacking him, leaving no time to rack up kills, though leaving an opening to be killed.
The El Dorado Virus
This move is based off the mysterious virus found in the mummified body of El Dorado. Hidden inside the sarcophagus carries an extremely detrimental, ancient and unidentified virus, which is dispersed through the air. It immediately affects victims, causing them to become extremely violent. As the virus is extremely rare, nobody who encounters it has any innate or acquired immunity to it. It's effects become progressively worse over time, and can be seen affecting both Gabriel Roman and a German soldier in a brief piece of film footage that Nate views in the submarine bunker. The Spanish colonists were similarly infected, and through centuries of inbreeding, evolved into mutant creatures that became known as the Desendants.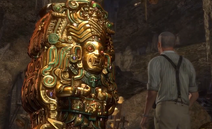 Since this Super turns victims into Descendants, it could be considered a semi-transformation type,

Although instead of transforming the user, it affects the opponents.

During Team Battle, opponents taking damage from Drake's teammate stuns them long enough that leaves widely vulnerable to be killed.
The music that plays during Nathan Drake's Level 3 is from 'Unlocking the Past' in Uncharted: Drake's Fortune.
Nathan Drake's level 3 super would later inspired the Mystic power up "The Wrath of El Dorado" in Uncharted 4 multiplayer.
Ad blocker interference detected!
Wikia is a free-to-use site that makes money from advertising. We have a modified experience for viewers using ad blockers

Wikia is not accessible if you've made further modifications. Remove the custom ad blocker rule(s) and the page will load as expected.