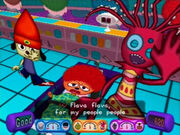 Hairdresser Octopus is a character from the PaRappa the Rapper series. He appears in PlayStation All-Stars Battle Royale.
Biography
Edit
Hairdresser Octopus was known to do great haircuts until he suddenly went bananas, holding his hair salon hostage and giving everyone afros, including PaRappa's friends Katy Kat, Lammy, and Ma-San. Not stomaching the thought of Sunny Funny , who was just on her way there, getting an afro too, PaRappa accepts Hairdresser's challenge of creating the better hairstyle. Upon PaRappa winning, Hairdresser turns blue and has no memory of what just occurred.
Connections with All-Stars
Edit
Hairdresser Octopus appears in PSASBR as an icon that you can select once you have reached Rank 15 with PaRappa.