Hannah [1] known as Natsumi (ナツミ) in Japan, is a caddy from Hot Shots Golf: Out of Bounds (Everybody's Golf: World Tour in PAL territories and Everybody's Golf 5 in Japan), the fifth installment of the main Hot Shots Golf series. She makes a small background appearance in Playstation All-Stars Battle Royale.
Biography
Edit
Hannah is an energetic, high-spirited caddy. She's the kind of girl who worries more about others than herself making her fabulous at providing the right support her golfing clients need. If only she had the strength to hoist a golf bag without staggering under the load, she'd be the perfect caddy!
Connection with All-StarsEdit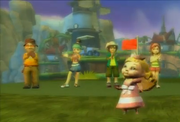 Hannah appears in the background of
Sandover Village
. She can be seen near the green next to
Samos
's hut, jumping up and down with excitement after the Rift Rider Ring shoots out the
Hot Shots Golf
pieces and golfers onto the stage. After the match is over, she, along with
Suzuki
,
Jasmine
and
Nick
can be seen applauding the winner.
She shares the same Japanese name as Natalie from the Ape Escape series, another non-playable character.
References
Edit