Nick, known as Conan (コナン) in Japan, is a golfer from Hot Shots Golf: Out of Bounds (Everybody's Golf: World Tour in PAL territories and Everybody's Golf 5 in Japan), the fifth installment of the main Hot Shots Golf series. He is one of the two starting characters of the game (the other being Jasmine) and makes a small backround appearance in Playstation All-Stars Battle Royale.
Biography
Edit
NATURAL STYLINGS
Nick's love for the game started after watching a certain young golf player battling it out on TV. Nick might not be strong but he makes it up in intelligence and a keen ability to read the course. One day he'll have a great professional future… and perhaps play against his childhood hero and inspiration: Pro Golfer Maruyama!
Connection with All-StarsEdit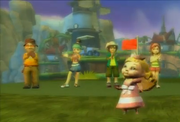 Nick can be seen hitting golf balls in the background of
Sandover Village
, alongside Jasmine and
Suzuki
. He appears on the right side after the Rift Rider Ring shoots out the
Hot Shots Golf
pieces and golfers onto the stage. After the match is over, he,
Hannah
and the other golfers, can be seen applauding the winner.