The Patapon Tribe [1] are the protagonists of the Patapon series and are featured in Playstation All-Stars Battle Royale.
Connection with All-StarsEdit

The Patapons appear in the Hades stage half-way throught the stage. Seeing Hades attacking the All-Stars, the Patapons try to save them. Hades is sometimes distracted by them and tries to not only kill the All-Stars, but the Patapons as well. In the end, the Patapon army manages to defeat the god with their spears.
Polygon Man will turn into the Patapons in Boss Arena.
Abilities
Edit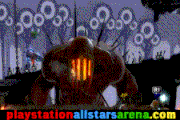 After the Patapon Tribe makes their appearance on the stage they will first just stand in the background. Later they will shoot a barrage of spears that will rain down on the stage. The spears will fall very quickly so it is hard to dodge when you are on the landing spot when it turned red. They later also defeat Hades with their spears.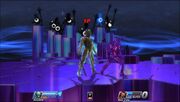 The Patapons are the only characters Polygon Man turns into that are heroic.
When Big Daddy uses his Level 3 Super the Patapons will float around in the background of the stage (if they already have appeared).
References
Edit