PlayStation All-Stars is a crossover video game series distributed by Sony.
PlayStation All-Stars Battle Royale Edit
Main article: PlayStation All-Stars Battle Royale
PlayStation All-Stars Battle Royale is a crossover platform fighting game exclusively for the PlayStation 3 and PlayStation Vita. It was developed at SuperBot Entertainment along with SCE Santa Monica Studios and was published by Sony Computer Entertainment. It was released on November 20, 2012 in North America, November 21, 2012 in Europe, November 22, 2012 in Australia, November 23, 2012 in the United Kingdom, and January 31, 2013 in Japan.
PlayStation All-Stars Island Edit
Main article: PlayStation All-Stars Island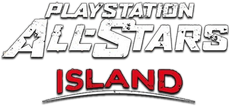 A free-to-play minigame collection titled PlayStation All-Stars Island was released for iOS in summer 2013 as a cross-promotion with Coke Zero and later made available for Android. The game is only available in specific European territories.
In an interview with Shuhei Yoshida after E3 2013, Shuhei said "never say never", hoping there would be a future for the game. He also commented he'd "like to see us come back to the idea, but "maybe not the same mechanic".
Characters
Edit
Notes

DLC: Downloadable content
Ad blocker interference detected!
Wikia is a free-to-use site that makes money from advertising. We have a modified experience for viewers using ad blockers

Wikia is not accessible if you've made further modifications. Remove the custom ad blocker rule(s) and the page will load as expected.