The
Pop-It
Menu is the most important tool you'll come across in the world of
LittleBigPlanet
. It appears in
PSASBR
.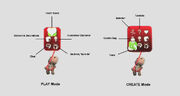 Connection with All-Stars
Edit
Sackboy
places heavy emphasis on using the Pop-It menu when using moves. A Pop-It menu also appears in
Dreamscape
as the level is being crafted, in which it changes the background twice, and adds platforms and hazards.
Ad blocker interference detected!
Wikia is a free-to-use site that makes money from advertising. We have a modified experience for viewers using ad blockers

Wikia is not accessible if you've made further modifications. Remove the custom ad blocker rule(s) and the page will load as expected.