Sunny Funny [1] (サニー・ファニー Sanī Fanī?) is a major character from the PaRappa the Rapper series. She is PaRappa's love interest and she is a sentient flower. While she was one of the main character in her home series, she has a small role in PSASBR.
Biography
Edit
Sunny Funny is PaRappa's main love interest in the PaRappa the Rapper series. She is also the daughter of General Potter, an army general. She generally keeps an innocent demeanor and a positive outlook on things. She too, has feelings for PaRappa and generally likes him the way he is. She is however most impressed when PaRappa appears to shown signs of manliness, although this is attributed to PaRappa needing the bathroom.
Connection with All-Stars
Edit
"I wish Sunny Funny saw what I did."
She appears in a thought bubble over PaRappa's head in his Introduction. During one of PaRappa's Winning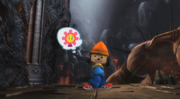 Screens, he exclaims that his victory was dedicated to Sunny Funny. She even appears in Parappa's Level 3 Super Move, albeit only in sillhouette. She even appeared in Parappa's story in the intro and ending cinematics.
References
Edit
Ad blocker interference detected!
Wikia is a free-to-use site that makes money from advertising. We have a modified experience for viewers using ad blockers

Wikia is not accessible if you've made further modifications. Remove the custom ad blocker rule(s) and the page will load as expected.