Sweet Tooth Outcast


Vital statistics
Title
Sweet Tooth Outcast
Series of Origin
Starhawk
Based on
Multiplayer costume from Starhawk
The Outcast Sweet Tooth costume is a pre-order exclusive costume[1] available for Sweet Tooth. It is the Outcast version of Sweet Tooth. It was first available as a DLC with the 2012 Twisted Metal via a code that came with the game, for online multiplayer in Starhawk. It came complete with a blue version of his trademark "fire hair" and Outcast-style machete.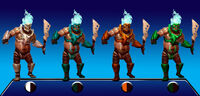 This Sweet Tooth costume never appeared in Twisted Metal series.
References
Edit
Ad blocker interference detected!
Wikia is a free-to-use site that makes money from advertising. We have a modified experience for viewers using ad blockers

Wikia is not accessible if you've made further modifications. Remove the custom ad blocker rule(s) and the page will load as expected.