What's up, All-Stars? I've recently found some news regarding DLC for PlayStation All-Stars Battle Royale. Now, I have good news and bad news, and I expect you'll want to hear the bad news first, so here it is. Sadly, Santa Monica has no plans for DLC characters or stages. I hate to admit and still feel strongly about the #ReleaseDart and #KeepAll-StarsAlive campaigns, but it's the truth.
However, the good news is that Santa Monica will continue to support this game. The pre-order costumes for Dante, Big Daddy, Heihachi Mishima, and Raiden that were never released, as well as Zeus and Isaac Clarke's third outfits that were previously only accessable through a glitch, are finally going to be released as DLC on August 27th. The best part about this is that these six costumes are going to be ABSOLUTLEY FREE!! In addition to this, Santa Monica has also stated that they will also be adding a balance patch, and will work on the issue of tournament belts not resetting and other such glitches.
Here is the link the the blog regarding this information: http://community.us.playstation.com/t5/PlayStation-All-Stars-Battle/Official-Support-Update-Costumes-Patch-Leaderboard/m-p/41179013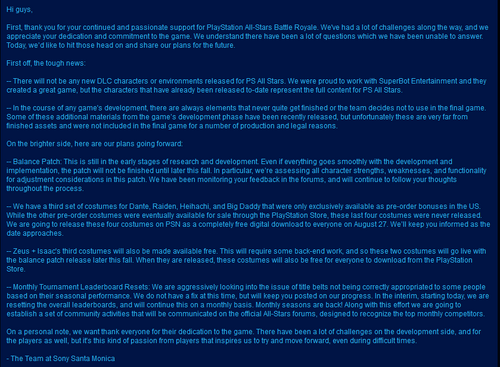 So, what do you think guys? Are you happy they're finally releasing the costumes? Still upset that we won't be seeing Dart or the Gravity Rush/Journey stage? Or have you dropped all expectations for further updating Battle Royale and hoping for a PlayStation 4 and Vita sequel?
Ad blocker interference detected!
Wikia is a free-to-use site that makes money from advertising. We have a modified experience for viewers using ad blockers

Wikia is not accessible if you've made further modifications. Remove the custom ad blocker rule(s) and the page will load as expected.