Alright, All-Stars, here are the official rules for the tournament.
Each team member must contact their partner and opponents and schedule their matches independently. Each battle will be Single Match Elimination, meaning that the winners of the battles will move onto the next round while those who lost will be eliminated.
Each match will be a stock battle with 10 lives, regular AP generation, and random stage selection.
Here is the official bracket for the tournament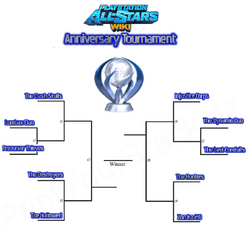 The match-ups are as follows:
Lombax Clan vs Precursor Thieves
The Hallowed vs The Destroyers
The Dynamic Duo vs The Last Conduits
The Hunters vs Zoruka 2.0
The Crash-Skulls will face the victors of Match 1, and Injustice Corps will face the winners of Match 3.
The links to each member's profile are in this table
Ad blocker interference detected!
Wikia is a free-to-use site that makes money from advertising. We have a modified experience for viewers using ad blockers

Wikia is not accessible if you've made further modifications. Remove the custom ad blocker rule(s) and the page will load as expected.