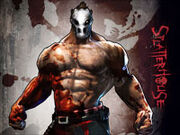 Rick Taylor is the protagonist of Splatterhouse and a playable character in Playstation All-Stars Battle Royale.
Gameplay
Rick is a tough and powerful character, however, he is also one of the slowest. He makes great use of his fists during combat and can manipulate his bones as weapons.
Super Moves
Level 1: Rick grabs an opponent by the leg and uses him or her as a club.
Level 2: Rick sticks his hand into an opponent and drains him of his blood, healing himself.
Level 3: Two parts. First part of this super, the setting changes from 3D to 2D, similar to that of the first Splatterhouse games, until Rick runs out of health. Once that happens, Rick enters a cinematic and enters his mutant form, making him invulnerable and able to kill with one blow.
Alternate Skins
Terror Mask
His default form.
Playstation Mask
The downloadable Playstation mask from the 2010 Splatterhouse game.
Corrupted Mask
The downloadable Corrupted mask from the 2010 Splatterhouse game.
Screens
Intro
Rick throws his head in the air and roars.
Winning
Rick picks up an opponent and throws him to the ground.
Losing
Rick falls to his knees as he attempts to heal himself.