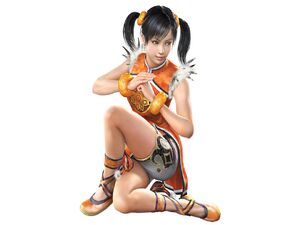 Xiaoyu, full name Ling Xiaoyu, is a character from the Tekken series. She made her first appearance in Tekken 3.
Biography
Edit
Xiaoyu is a participant in the King of Iron Fist Tournament. She was a friend of Jin Kazama and seeks to find him after he disappeared. Heihachi was so impressed with her skills that he had her enrolled in the Mishima High School.
She has a Panda bodyguard named Panda, whom Kuma has a crush on.
Connections with All-Stars
Edit
She appears in PSASBR as an icon that you can select once reaching Rank 23 with Heihachi Mishima.
Ad blocker interference detected!
Wikia is a free-to-use site that makes money from advertising. We have a modified experience for viewers using ad blockers

Wikia is not accessible if you've made further modifications. Remove the custom ad blocker rule(s) and the page will load as expected.